Parolas familiar in anglese ancian
Le 25 de decembre 2022 usque le
Introduction
"Nederlands tussen Duits en Engels", in interlingua 'Nederlandese inter germano e anglese', isto es le titulo de un libro de Dr. C.B. van Haeringen, anno de publication incognite, que se trova sur un de mi plancas de libros.
E il es ver, le nederlandese ha un position intermedie inter le anglese e le germano, e non solmente in le senso geographic.
Quanto al morphologia: le nederlandese ha conjugationes de verbos, similar a illos del germano, e ha verbos debile regular e verbos forte irregular como tote le tres linguas. Ma como in anglese, il ha in nederlandese solo duo casos grammatic (nominativo, e dativo/accusativo combinate), que solo se monstra in le pronomines personal. Il non ha quatro casos como in germano (nominativo, genitivo, dativo, accusativo), que determina in ille lingua le forma de articulos, de adjectivos, e in certe situationes anque de sub­stantivos.
Quanto al vocabulario: que le sequente tabella clarificara lo:
| anglese | neder­landese | ger­mano | remarca |
| --- | --- | --- | --- |
| to think | denken | denken | |
| dish | dis | Tisch | Le parola nederlandese es obsolete (ma il ha un verbo 'opdissen'), e le parolas anglese e germano non plus ha le mesme significato (platto, scutella; tabula). Tamen tote le tres parolas es cognate. |
| that | dat | das | |
| bed | bed | Bett | Como in germano, consonantes sonor final deveni surde in nederlandese, ergo [nl] bed sona como [de] Bett, non como [en] bed. |
Multe parolas ordinari e quotidian es de origine germanic, e assi cognate. Totevia in anglese il ha anque multe parolas que proveni del francese e latino, e alcunes de un altere branca del linguas germanic, nam le ancian nordico. Iste parte del vocabulario obscura le similantia del stock de parolas anglese con illo del nederlandese e germano. Nam in le processo del adoptation del vocabulos foranee, a vices le vocabulo original anque remaneva in uso, altere vices non.
Teach Yourself Books
In un previe articulo io ha ja monstrate un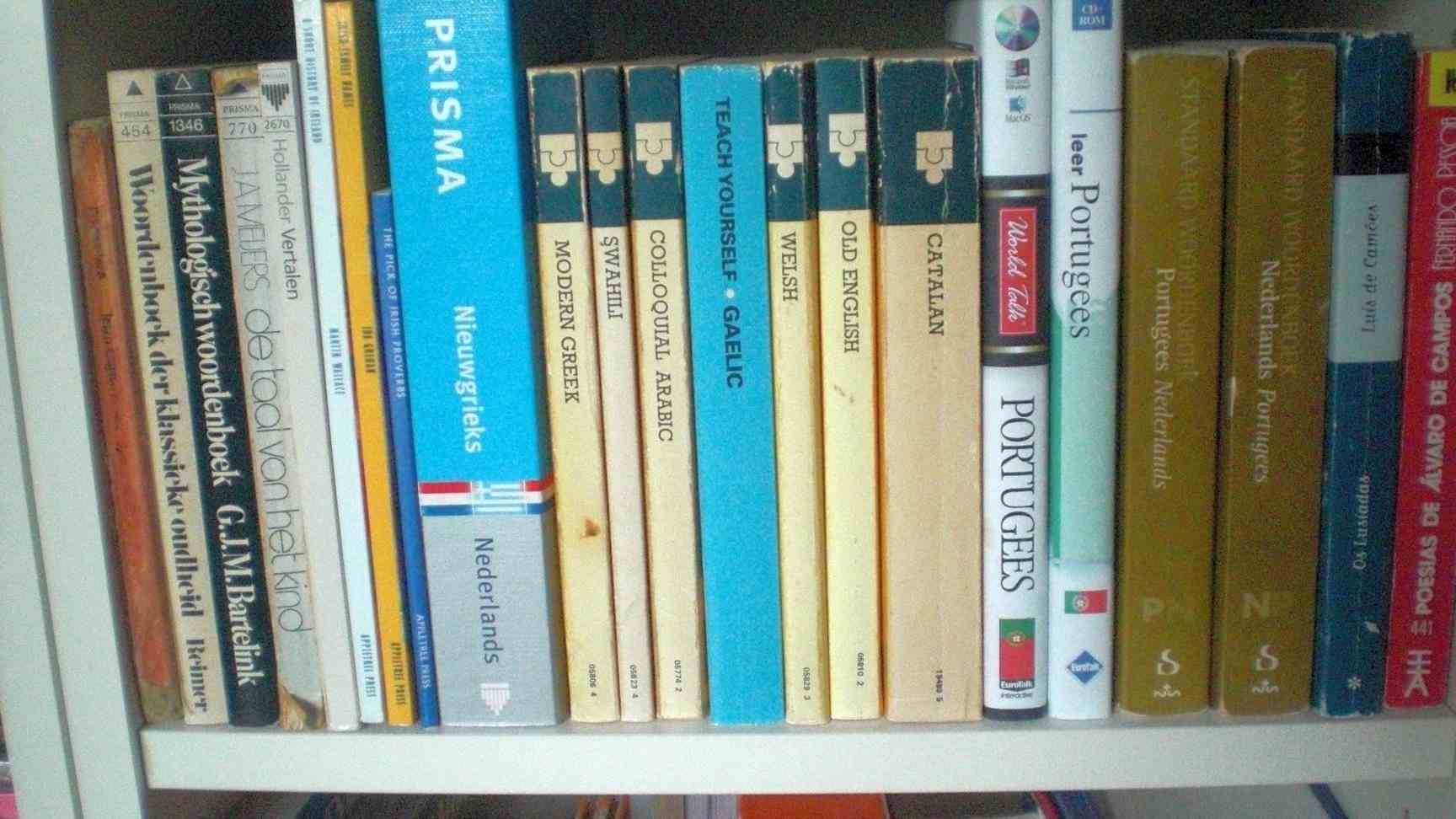 photo del libros Teach Yourself, que io obteneva in le annos 1970, o forsan anque le 1980s. Un de illo es Old English, per Leslie Blakely, © 1964, sexte impression 1976. Ecce le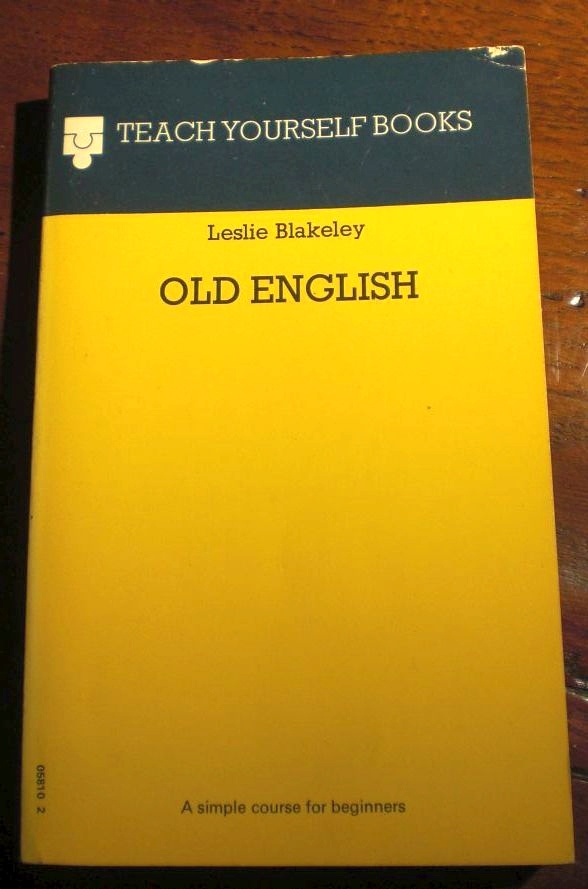 fronte, e le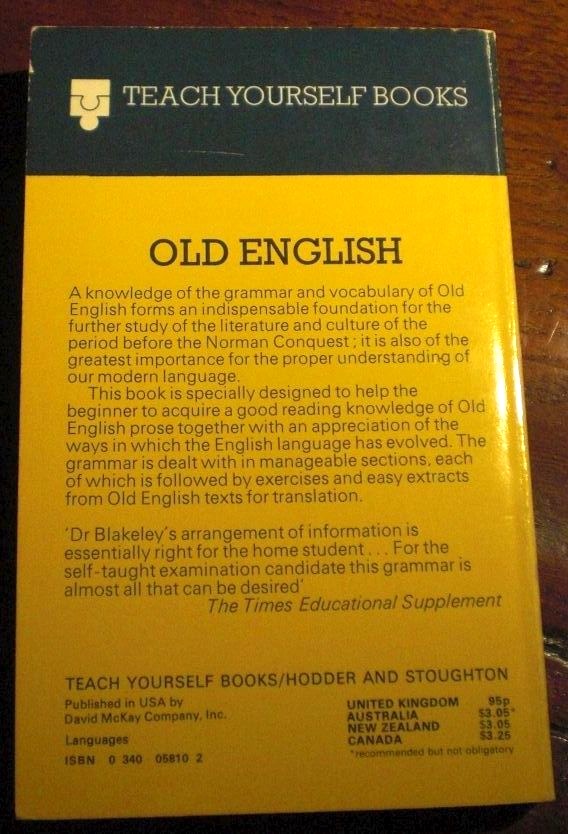 reverso.
Le paginas 165 usque 185 forni un lista de parolas del anglese ancian (quinte seculo usque circa 1100), con un traduction in anglese moderne. Conspicue­mente il ha inter ille parolas multes, que pote esser difficile pro anglophonos, ma que pro me como nederlandese, es assatis facile. Isto es proque le anglese moderne ha perdite ille parolas, ma altere linguas germanic ancora los ha, in forma rarmente identic, ma sovente satis similar pro un reco­gnition immediate.
Il ha anque parolas del anglese moderne, que de facto es le continuation natural de un vetule parola, ma que ha suffrite un mutation de forma que pote facer le recognition difficile, ben que in nederlandese, le forma es ancora quasi equal al forma anglese ancian.
In le tabella sequente io presenta exemplos de ambe typos de parolas.
Tabella
anglese ancian
nederlandese
anglese moderne
interlingua
nn
ǣlc
elk
each, every
cata
ǣnig
enig
any, anyone
alicun, alicuno, qualcuno
ǣr
eer (> eerder, weleer, eertijds)
before; formerly
ante; antea
02
ǣrest
eerst
first
prime, primo
ætsamne
tezamen (> samen)
together
insimul
æþele; æþeling
edel; edele, prins
noble; prince
nobile, gentilhomine; prince, principe
ār
eer
honor, mercy
honor, mercede, gratia
ārlēas
eerloos
impious, wicked
dishonorabile, sin honor, ingloriose, infame, inscrupulose
ātimbran, getimbran
timmeren
build
struer, construer, edificar
āwendan
wenden
turn, change
tornar, verter, cambiar
āweorpan
werpen
throw, cast out
jectar, lancear, projectar
āwerian
(zich) (ver)weren
defend
defender
belīefan; belīfan
geloven; blijven
believe; remain
creder; remaner
03
biddan
bidden
ask (for), beg, pray
demandar, requestar, supplicar, peter
binnan
binnen
prep: in, within, less than; adv: inside, within
in, intra, intro
bispell
germano: Beispiel
parable
exemplo; parabola
04
gebod
gebod
command
commandamento, ordine, precepto
boga
boog
bow
arco
brūcan
gebruiken
enjoy, use
usar, utilisar, emplear
bufan
boven
prep: above, over, on; adv: above
super; supra
cāsere
keizer
emperor
emperor
cēapian
kopen
buy, sell
comprar, emer, vender
ceorfan
kerven
cut
trenchar, secar, taliar
05
ciepan
kopen
trade in, buy, sell
comprar, emer, vender
cēowan
kauwen
chew
masticar
cierr
keer
time, occasion
vice
cnapa
knaap
boy, youth
puero, garson
cniht
knecht
youth
juvene
06
cræft
kracht
strength, skill
fortia, competentia, habilitate
cunnan
kennen, kunnen
know, know how to, be able to
cognoscer, saper, poter
cwellan
kwellen
kill
occider
07
cyning
koning
royal, king
rege
cyre
keur, keus
choice
option, election, selection
08
dæg
dag
day
die, jorno
dǣl
deel
part, share
parte
dēor
dier
wild beast
animal salvage
09
dōm
doem
judgment
judicamento, judicio, malediction
dugan
deugen
avail, be useful
servir, esser apte
dūn
duin
hill
colle, collina
gedwola
gedwaal, dwaling
error
error
ēac
ook
also
anque, etiam, tamben
earm
arm
poor, wretched
paupere, povre
fæst
vast
firm, fixed
firme, fixe
fæsten
vesting
fort
forte, fortalessa
fela
veel
many, much
multe
fēond
vijand
enemy, foe
inimico
10
foran
vooraan, (van) voren
in front, before
ante, avante, antea
fordōn
verdoen
destroy
destruer, devastar
11
forlǣtan
verlaten
leave, abandon
quitar, abandonar
forht
germano: Furcht; befürchet
afraid
apprehensive, timorose
forspillan
verspillen
destroy, squander, waste
guastar, dilapidar
22
forweorþan
verworden
perish
obir, perir
frignan
vragen
ask
demandar
friþ
vrede
peace
pace
fugol
vogel
bird
ave
gǣlsa
geil
wantonness
luxo, extravagantia
gān
gaan
go
ir, vader
gāst
geest
spirit
spirito
12
gīsel, gīsl
gijzelaar
hostage
ostage, hostage
grama
gram
anger
furor, furia, cholera, ira
guma
bruidegom
man
homine
13
habban
hebben
have, possess
haber, posseder
hǣland
heiland
Saviour
Redemptor, Salvator
gehāl
geheel
whole, healthy, uninjured
complete, san, illese, indemne
hālga
heilig
holy
sancte
hebban
heffen, germano: heben
raise, lift up, set up
levar, altiar
hefig
hevig
heavy
pesante
14
gehīersam
gehoorzaam
obedient
obediente
hlēapan
lopen
leap
saltar
15
hwelc
welk
which, what
qual
ic
ik
I
io
gelǣdan
geleiden
lead, carry, bring, take
ducer, guidar
lǣrnan
leren, germano: lernen, lehren
teach
inseniar
16
lār
leer
teaching, doctrine
doctrina
gelaþian
germano: (ein)laden
invite
invitar
lāþlic
lelijk (< ledelik)
loathsome
repugnante, abominable
17
lēas
loos (como in: loos alarm, alarma false
false
false
lencten
lente
spring
primavera, ver
lēof
lief
dear, pleasant
car, amate
līc
lijk
body
morto, corpore, cadavere
gelīc
gelijk
like, equal to
equal, similar
ligcan
liggen
lie (dead)
jacer
lichoma
lichaam
body
corpore
lichomlic
lichamelijk
bodily
corporal, corporee
gelīcnes
gelijkenis
likeness
similantia, similaritate, semblantia
geliefan
geloven
believe
creder
lof
lof
praise
laude, elogio
lofsang
lofzang
hymn in praise
canto de laude, hymno
lystan
lusten
impersonal verb: please
placer
mægen
vermogen
strength, capacity
fortia, capacitate
18
manig
menig
many, many a
multe, plure
menigo, menigu
menigte
multitude
multitude
mid
met
with, by
con
mōd
gemoed
heart, mind
corde, mente
19
morgen
morgen
morning
matino, matutino
mōtan
moeten
be allowed to, be permitted to
poter, esser permittite
20
geniman
nemen
take, capture
prender
niþer
neder, neer
down, downward
a basso, descendente
21
genōg, genōh
genoeg
enough; abundantly
sufficiente, bastante; abundantemente
oferstīgan
overstijgen
rise above
exceder a, superar
overwinnan
overwinnen
conquer
vincer, conquirer
onhagian
behagen
impersonal verb: please, be convenient for
agradar, placer
onsigan
(neer)zijgen
sink, decline
collaber, clinar, declinar
rǣd
raad
advice, course, plan of action
consilio,
rǣdlic
raadzaam, redelijk
advisable
consiliabile, judiciose
regn
regen
rain
pluvia
regnboga
regenboog
rainbow
iride, iris, arco del celo
rēþe
wreed
fierce
cruel
rīce
rijk
country, kingdom, dominion
pais, regno
rice
rijk
rich
ric
samod
samen
together
insimul
scandlic
schandelijk
infamous, vile
scandalose
gescieppan
scheppen
create
crear
scipfierd
scheepvaart
naval force
navigation
scūfan
schuiven
push
pulsar
gesēcan
(be)zoeken
seek, come to, go to, invade
cercar, vader, invader
self
zelf, zelfde
self, same
ipse, mesme
sēon
zien
see
vider
sidefull
zede
virtuous
virtuose
sige
zege
victory
victoria, triumpho
spilling
verspilling
waste
dilapidation
22
sprǣc
spraak
speech, language
parola, linguage
sprecan
spreken
speak
parlar
stæf
[de] Buchstabe, [nl] boekstaven
letter of the alphabet
littera del alphabeto
23
stede
stad, steden, hier ter stede
place
loco, placia
24
stierc
stier
calf
vitello, bovello
25
stycce
stuk
piece
pecia
gesund
gezond
sound, healthy, not harmed
san, illese, indemne
swencan
zwenken
afflict
affliger
26
swincan
zwenken
toil
multo travaliar, facer dur labor
26
synderlice
afzonderlijk
separately
separatemente
syndrig
zonder
separate
separate; sin
tīd
tijd
time, hour
tempore, hora
þearf
germano: Bedarf
need, benefit, advantage, good
besonio, necessitate
unfriþ
onvrede
hostility, hostile intent, violation of the peace
discontento, discordia, hostilitate
ungehīersam
ongehoorzaam
disobedient
disobediente, inobediente
wacian
waken
keep watch, remain awake
veliar, vigilar
gewǣd
gewaad
dress, garnments
habito, vestimento, costume
weaxan
[de] wachsen, [nl] wasdom, wassen
grow, increase
crescer
27
gewendan
wenden
turn, go, return, make one's way
tornar, girar, verter, cambiar de direction
weorpan
werpen
throw
jectar, lancear, projectar
weorþan
worden
become, happen, arise, come to pass come into being, be, be fulfilled, make
devenir, evenir
werian
weren
defend
defender, propugnar
winnan
winnen
fight
combatter, luctar
gewinnan
(ge)winnen
win, gain
vincer, triumphar, ganiar
witan
weten
know
saper
wlite, wlitig
vlijt, vlijtig
beauty, beautiful
beltate, belle
28
wolcen
wolk
cloud
nube
geworht (past participle of wyrcan)
gewrocht (werken)
made
facite
29
gewrecan
wreken
avenge
vengiar, vindicar
gewuna
gewoon(te)
habit, wont, custom
habito, usantia, costume
wunian
wonen; wennen
dwell, remain, be accustomed to, have a custom
habitar, demorar, haber su domicilio, resider, viver; esser accostumate
30
ȳþhengest
hengst
horse of the wave, ship
cavallo del undas, nave, barca, vascello
31
Notas
Nota 01
A vices la parolas del anglese ancian e le cognato in nederlandese moderne non coincide perfectemente. E.g. un pote esser un substantivo e le altere un verbo, o un un adverbio e le altere preposition. Si le idea basic semantic es ancora le mesme, io non va in detalios, ma traduce primarimente in interlingua le senso del anglese ancian, non del nederlandese.
Qui vole saper plus, qui vole saper toto exactemente, debera mesme investigar in dictionarios. Le Wiktionary hodie es satis complete, ma il ha alteres natural­mente.
Ubi le situation es complicate o interessante, io explica plus, in le sequente notas, que es referite desde le parolas (in le parte dextre del tabella), e que se refere retro al parolas.
Cetero io debe accentuar que le presentia de tan multe cognatos del neder­landese in le anglese ancian, non implica que un texto in iste lingua serea facile a leger pro me. No, isto es tamen satis difficile.
Nota 02
Le parola nederlandese eer como un adverbio in le senso 'ante que' es hodie satis dismodate, ma ancora usate in expressiones fixe, como:
[nl] Eer we er erg in hadden, was het al gebeurd.
[ia] Ante que nos lo habeva remarcate, illo ja habeva evenite.
Nos anque vide eer como un elemento in eerder (plus tosto, potius), e in weleer, eertijds (in le passato, olim).
Nota 03
Le parola belīfan del anglese ancian ha ducite a parolas in anglese moderne, con le senso de remaner, ma totes es dialectal o archaic: belive, blive, belave.
Nota 04
Le parola german Beispiel (pro le qual io non sape un cognato nederlandese; a non confunder con blijspel = comedia) significa 'exemplo'. Le parola del anglese ancian tamben, ma il ha plus.
Nota 05
Le parola nederlandese kerven es de facto cognate con le anglese ancian ceorfan, ma le significato de olim esseva plus general, lo de trenchar, secar, taliar, ben que kerven vole dicer incider, incisar, insecar, intaliar, gravar, scarificar. Iste ultime significatos naturalmente anque habe le vocabulo del anglese moderne to carve, le developpamento natural de 'ceorfan', que non es mentionate in le libro Teach Yourself, io pensa: proque le senso ha movite.
Interessantemente iste familia de parolas in le linguas germanic es cognate con le greco γράφειν, e assi anque con parolas de interlingua como graphia, graphic, orthographia, biographia, e multe alteres.
Nota 06
Le parola 'cniht' del anglese ancian habeva un senso general de 'persona juvene'. Le parola nederlandese 'knecht' se refere a un servitor, un adjutante. E il ha obviemente le parola anglese moderne 'knight', originalmente un serviente de un soverano, plus tarde un cavallero, in nederlandese: un ridder.
Le base de iste parolas in protogermanico del west, kneht, non ha un etymologia cognite, e on non trova un tal parola in altere brancas del familia de linguas germanic.
Nota 06a
Le protogermanico del west, o protogermanico occidental (anglese: Proto-West Germanic ) es le progenitor del anglese, nederlandese, frisian, germano, yiddish, alsatian, e germano suisse. Le protogermanico (anglese: Proto-Germanic ) es le progenitor de istes, e tamben del gothico (del branca germanic oriental), e del linguas germanic septentrional: islandese, feroese (ISO 639: [fo] o [fao]), norvegiano ([nn] e [nb]), danese e svedese.
Le Wiktionary correctemente marca parolas de linguas como le protogermanico occidental e le protogermanico con un asterisco, e.g. *swinkaną, pro indicar que iste formas es reconstructe, ma non attestate. Nam il non existe libros o inscriptiones in tal linguas, o si ha existite inscriptiones, illos non ha essite guardate, o nos non ha potite trovar e salvar los.
Io lassa via iste asteriscos, iste parve stellas, ben que io comprende e recognosce lor utilitate, proque per definition tote le parolas de iste duo linguas es non-attestate. Il existe anque linguas del qual alcun parolas es attestate, ma multe alteres es solo reconstructe per observation systematic de cognatos in linguas affin.
Nota 07
Le vocabulo nederlandese kwellen significa tormentar, non occider como in vetule anglese. Interessantemente, in protogermanico occidental kwalljan e in protogermanico kwaljaną ja habeva le sensos que existe ancora hodie in nederlandese, lo de, dicite in anglese, to torment, to make suffer, to hurt.
Nota 08
Le parolas nederlandese 'keur' e 'keus, keuze' es subtilmente differente:
keus, keuze = selection, option, election
keuren (verbo) = examinar, controlar, probar, provar. Sed in 'voorkeur = preferentia' on vide un similaritate con le parolas con [s] (final) o [z].
Iste parolas nederlandese, e cyre del ancian anglese, es de facto familia, via le protogermanico del west kuʀi. In illo, le symbolo ʀ ha le codice 280 (hexadecimal) in Unicode. Su uso es hic explicate, io cita in anglese:
"The outcome of Proto-Germanic *z is written with ʀ, following the traditions for Runic Norse studies. It was clearly no longer an obstruent, as it was not affected by the gemination before *j, but it was also still distinct from *r on account of dialect-specific differences."
Compara anque le parolas que recentemente io ha mentionate in un altere articulo.
Nota 09
Le parola nederlandese 'dier' indica cata typo de animal, sia domesticate, sia salvage como in vetule anglese. In anglese moderne le significato se ha stringite a un certe specie, nam lo del cervos.
Nota 10
Le vetule parola 'fēond' se ha developpate al anglese moderne fiend, ma non plus ha le senso de 'inimico', pro isto le Teach Yourself Book non lo mentionava.
Nota 11
Le verbo nederlandese 'verdoen' occurre primarimente in le expression 'tijd verdoen', in anglese 'killing time'. Anque un forma de destruer, on poterea dicer.
Nota 12
Il existe naturalmente le parola de anglese moderne ghost, que es cognate con le vetule gāst. Le maniera de scriber con 'gh' es sub influentia del flaminge o nederlandese, in le qual 'geest' era olim scribite 'gheest', pro indicar le pronunciation fricative que le littera 'g' non ha e non habeva in altere linguas, como le francese e germano.
Le libro Teach Yourself non mentiona 'ghost'. Io non sape proque, forsan proque secun i.a. le Wiktionary il ha un distinction (que io non comprende) inter le parolas anglese 'spirit' e 'ghost'.
Nota 13
In le nederlandese bruidegom ( = [en] bridegroom, con un extra r debite a ety­mo­logia popular; [ia] fidantiato, marito) on vide ancora le elemento -gom, que occurre solo in iste parola, e non plus ha un existentia independente, similar al situation in le anglese moderne.
Le origine es le protogermanico gumô, cognate con le latino homo.
Nota 14
Le nederlandese hevig ha su origine in commun con le anglese heavy, ben que le signi­fi­catos hodie non plus es equal.
[en] heavy = [nl] zwaar = [ia] pesante, ponderose
[en] = intense, violent, severe = [nl] hevig = [ia] vehemente, violente, forte, intense.
Nota 15
Il existe variantes de signification in le descendentes del vocabulo reconstructe proto­germanic hlaupaną:
In anglese (to leap) e frisian (ljeppe): saltar. Compara [fy] fierljeppe, saltar al pertica.
'Laufen' in germano, e 'lopen' in le nederlandese in Vlaanderen: primarimente ambular rapidemente, currer; ma anque: ambular, marchar, ir a pede.
'Lopen' in le nederlandese de Nederland: ambular, marchar, ir a pede. Le senso 'currer' e illac plus tosto: rennen.
Nota 16
In germano il ha un distinction inter lernen, apprender, e lehren, inseniar. In neder­landese le forma leren, sin un 'n' post le 'r', ha ambe significationes. Le anglese vetule habeva un forma con 'n', que significava 'inseniar'.
Wiktionary mentiona le formas leornian e liornian pro le senso 'apprender'.
Nota 17
Le parola nederlandese lelijk significa fede, non belle, anglese moderne: ugly. Le senso del parola lāþlic o lāðlīc era alique differente. Ma le vocabulos es cognate.
Nota 18
Le parola mægen perpetua se como main in anglese moderne, cuje significato ha intertanto flottate a 'principal, major'.
Le nederlandese vermogen, de ver e mogen, es cognate, mægen e mogen ambes pro­veniente del protogermanico maganą. Ma le sensos in nederlandese es alique differente.
Nota 19
An non le moderne mood es cognate con mōd? Si, dice le Wiktionary, ma ap­parente­mente le senso es troppo differente pro mentionar lo in le libro Teach Yourself.
Nota 20
Mōtan in anglese ancian habeva le senso que mogen ha in le nederlandese de hodie. Le cognato nederlandese moeten significa: deber, esser obligatori, esser necesse.
Nos vide sovente tal differentias in verbos modal:
[nl] willen = [ia] voler;
[en] will = [ia] vader (verbo auxiliar del futuro); (rarmente) voler.
[nl] durven = [ia] osar;
[de] dürfen = poter, esser permittite.
[nl] zullen = [en] shall (in le senso futur, que es hodie poco usate; non in le senso juridic de 'esser obligatori, esser stipulate per le per contracto');
[de] sollen = [ia] esser obligatori, esser opportun, desirate, recommendate.
[nl] worden = [ia] devenir;
[de] werden = [ia] devenir; vader (verbo auxiliar del futuro).
Nota 21
Secun dictionarios, nether ancora existe, ma io pensa que illo es hodie poco usate. Un uso currente es in le nomine anglese de Nederland: the Netherlands.
Nota 22
Io non trova le parola spilling in le Wiktionary, ma il ha del medie anglese le variante spillyng. Per le sol parola moderne 'waste' il es difficile saper exacte­mente que esseva le senso in vetule anglese. Ma compara forspillan, que es un verbo.
Nota 23
Le parola Buchstabe del germano ha le mesme senso que stæf in le anglese ancian. Le verbo nederlandese boekstaven non es multo usate, e ha un senso specialisate de notar, registrar, documentar.
Nota 24
Le parola nederlandese 'stad' ha le senso plus restricte de urbe, citate, in comparation con le anglese ancian stede. Le vocal 'e' nos vide anque in le plural del vocabulo neder­landese: 'steden'.
In le expression antiquate, ma ancora usate, 'hier ter stede', hic in le urbe, nos vide un forma 'stede' declinate e fossilisate, que es exactemente le mesme que le parola del anglese ancian.
Un parola stead existe ancora in anglese moderne, es poco usate in isolation, ma occurre in instead of, in vice de, in homestead, e in nomines geographic como Hempstead, que al minus in un caso ha essite derivate de Heemstede (presso Haarlem) in Nederland.
Nota 25
Le Wiktionary mentiona de iste parola stierc altere formas, nam stēor, stīorc, stȳric, e stīrc. Le formas con -c, il sembla, contine un suffixo diminutive, que nos anque habeva in nederlandese in le forma -ke o -ken, hodie -je, ma ancora -ke(n) in variantes in le sud del territorio linguistic del nederlandese. On anque vide isto in le forma -chen in le germano moderne.
Compara mannequin, de manneken, in nederlandese moderne septentrional: mannetje, = parve homine.
Que il habeva variantes in le anglese ancian non surprende: tote le linguas de olim esseva habitos de arlequin de dialectos, sin un clar standard. Le autor del libro Teach Yourself explica in su prefacio: "The extracts are normalized on an Early West Saxon basis, to remove variant forms which would confuse a beginner."
In anglese ancian le parolas stierc etc. se refereva primarimente a juvene boves, sovente masculin, ma anque feminin (heifer). In nederlandese un stier es sempre masculin, e normalmente adulte, sinon le animal es anque appellate stiertje o stierkalf.
Nota 26
Le tres parolas es cognatos: le anglese ancian (ISO 639: [ang]) swencan proveni del protogermanico occidental swankijan, protogermanico swankijaną, e [nl] zwenken tamben.
Le variante [ang] swincan proveni del protogermanico swinkaną. Le protogermanico swankijaną (vide in alto) era le causativo de swinkaną iste mesme lingua reconstructe.
Le contento semantic del parolas [ang] swencan e swincan, e [nl] zwenken, monstra satis variation: zwenken significa virar, tornar, girar.
Nota 27
Un parola nederlandese wassen, con un altere etymologia, significa 'lavar'. Le parola con le mesme senso que in anglese ancian existe, ma es obsolete. On ancora lo vide in alcun expressiones fixe:
Tot volle wasdom komen = arrivar a maturitate, completemente disveloppar se.
Flink uit de kluiten gewassen = grande, ben crescite, robuste
Het wassende water = le aqua montante, le marea crescente. (Le romance de iste titulo per Herman de Man joca in un region a presso de ubi ora io vive.)
Nota 28
Istes es false amicos! Le vetule anglese wlite proveni del protogermanico wlite, que ha cognatos in altere brancas del indoeuropee.
Le nederlandese vlijt (sensos: zelo, diligentia, assiduitate, laboriositate, operositate, application) proveni del protogermanico flītaz, compara flītan, sin etymologia indo­europee cognite.
Nota 29
Werken e wyrcan es cognatos. Le conjugation in nederlandese es hodie regular: passato werkte, participio passate gewerkt.
Le parola gewrocht es obsolete, le parola doorwrocht (ben elaborate etc.) anque non es quotidian, ma plus frequente in le nederlandese moderne.
Nota 30
Le nederlandese wonen es cognate con wunian, e ha le mesme significato 'dwell' etc. Le sensos be accustomed to, have a custom corresponde plus con le neder­landese 'wennen; gewend zijn', que le Wiktionary associa, via wunāną in vice de wanjaną, con le vetule anglese wenian, wennan.
Nota 31
Le elemento ȳþ in ȳþhengest proveni de unþī, del qual on poterea facilemente pensar que illo serea cognate con le interlingua 'unda'. Ma le Wiktionary explicitemente denega lo: «Not related to Latin unda ("wave").»
Le vocabulo nederlandese hengst se refere solo a cavallos masculin, non-castrate, ma isto anque esseva le caso in le anglese ancian.
Youtube
Youtube contine varie videos relatate a iste thema:
"Anglish – What if English Were 100% Germanic?", in the channel Langfocus, by Paul Jorgensen.
"Old English Spoken | Can American, Australian, and Non-Native English speaker understand it?", by Simon Roper, on Norbert Wierzbicki's channel Ecolinguist. E le secunde parte.
"Old English vs German, Can they understand spoken Old English?". E le secunde parte.
"How We'd Talk if the English had Won in 1066." A video review about a book by that name, written by D. Cowley.
"A Conversation in Old English and Old Norse", by Simon Roper and Jackson Crawford.